Scroll down or click here for full calendar.
FREE COMMUNITY FAMILY DINNER FOR MARCH 25 HAS BEEN CANCELLED.
FREE STRETCHING CLASSES HAVE BEEN CANCELLED!
PARISH LIFE EVENTS
EASTER COOKIE DECORATING CLASS – CANCELLED
Saturday, April 4, at 10 am, in the Courtyard.  The class will be led by Kristen Schell. Students will learn how to decorate sugar cookies with royal icing. Suggested donation to cover supplies is $5. Please email kristenmschell@gmail.com to RSVP so she knows how much cookies to make – 12 spots available.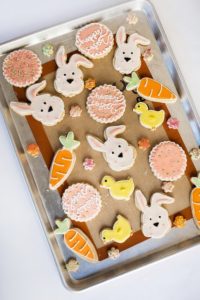 SUPPERS OF 6 OR 8 –
The Parish Life Committee invites the congregation to sign up for Suppers of 6 or 8 scheduled for Saturday, May 2 and 16. There is signup sheet for both dates including 6 people and 8 people. You can sign up to be a host(s) preparing the entrée, provide an appetizer, side dish, and/or dessert.
You can host at your home or you can host at the church and time of supper can be arranged by the host as well. If you want to have your supper at the church, please let Linda know in the church office so she can put on church calendar and notify our custodian as to your time frame.
Our committee decided on these two dates in May and any future dates may include a Progressive Dinner.
GAME NIGHT
Mark your calendar for another Game Night on Saturday, June 6, at 5 pm in the Courtyard. Please bring a game of your choice and an appetizer to share. The Parish Life Committee will provide refreshments.